Accel, Sequoia in advanced talks as Two of the country's largest venture capital firms — Accel India and Sequoia CapitalIndia — are in advanced talks to lead a $10-million series-A round in peer-to-peer motor vehicle rental startup Metrobikes, according to three people familiar with the development.
The Bengaluru-headquartered startup allows you to pick up a vehicle from their pool closest to your location and drop it at your end-trip location on an hourly rental basis.
"They have got a term-sheet deal from Accel and Sequoia. This is one of the largest series-A deals in the works," said one of the persons cited earlier. Users can opt for low-price range rentals, including a Honda Activa or a Piaggio Vespa, to high-price range options like a Royal Enfield Classic bike.
Email queries sent to Metrobikes, Accel India, and Sequoia Capital India remained unanswered till press time.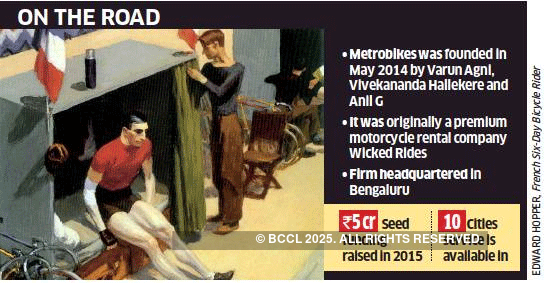 Experts tracking the space feel that with the ubiquity of motorbikes and scooters, this could be the next big thing in the ride-sharing space after auto-rickshaws. Metrobikes' rentals for motorcycles begin at Rs15 per hour.
"This space has potential to boom because India has a large population of two-wheelers —approximately 75% of the vehicles registered in India are two-wheelers — and these kinds of startups also offer luxury bike rentals, including Harley Davidson, at hourly affordable prices. There will be many interested users," said Jaspal Singh, a partner at Valoriser Consultants. According to experts, the local people in cities are likely to rent it more for outstation trips whereas tourists in the city and bike enthusiasts are expected to be repeat users.
"Venture capitalists also want to test the market and see if this is an area that can grow three folds in the next few years. They do not want to miss an opportunity to invest in a bike rental startup in one of the largest two-wheeler markets in the world," said an analyst, speaking on condition of anonymity.
Metrobikes, originally called 'Wicked Rides', was launched as a premium motorcycle rental company in May 2014 by Varun Agni, Vivekananda Hallekere, and Anil G.