Professional social network site LinkedIn has launched a new tool called 'Scheduler' that automates initial interview scheduling for recruiters and candidates, directly via InMail. LinkedIn's Scheduler to automate interview scheduling.
The new tool would help ease the hiringprocess for both recruiters and candidates by saving the time spent on scheduling a meeting and help recruiters focus their energies on hiring strategically and onboarding the best candidate, LinkedIn said in a statement.
Using this feature, candidates or recruiters can reach each other via InMail to see one's calendar availability and reserve an interview time that works best for both. It also enables candidates to provide their contact information to accelerate this process.
"Our goal is to help you spend less time on the back-and-forth-and a lot more time delighting, advising, and helping candidates make the decision to join your company," said Peter Rigano, Senior Product Manager at LinkedIn, in a blogpost late on Tuesday.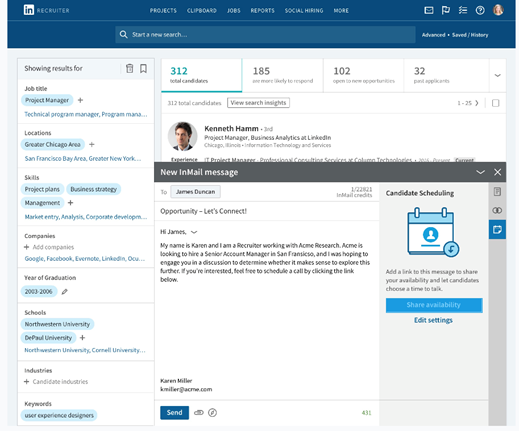 To use the feature, recruiters first need to sync their calendar (Office 365 or Google Calendar) with LinkedIn, that will automatically set the availability for potential interview times.
Then, recruiters can send a scheduling link directly to potential candidates by using a new InMail message, which will provide candidates a real-time view of the recruiter's calendar availability and then choose a suitable time slot, add their phone number and confirm the meeting. Candidates will also be able to reschedule the meetings through this confirmation link.
LinkedIn said the tool will also enable recruiters to manage their preferences such as time zones, availability, length of meetings and same-day meetings among others.